Posts tagged
goals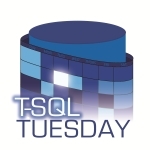 If you hadn't guessed, today's post is part of this months TSQL Tuesday.  This is an interesting topic for me since as a matter of principle I usually refuse to make resolutions and the like around the start of the new year.  I like to set goals, and work towards those goals but, I think "resolving" to do something has this nagging way of never turning out how I'd like.  It probably has something to do with the fact that I track goals but, typically only think about resolutions at a point in time.
So, this year Ill resolve to document a few of my goals for the year.
This year I only have a few professional goals.  Actually, quite a few less than usual.  I decided to trim down my professional goals this year to only a couple since they are quite large and very open ended.
Id like to make PASS as responsive as possible to the needs of our SQL Community.  This is simply to say that I plan to do what I feel I was elected to do.  Of all the directors I am as well positioned as anyone to make real change that can be seen to the average user of SQL Server.  I will need lots of help to make this happen, and I have no problem asking for that help (watch this space SOON for details)
I want to learn to be a better "manager/leader"  It takes a different set of skills to lead people than it does to be a DBA and do technical work.  I love the technical work, actually more than the management stuff but, my current roles are requiring more leadership and less technical.  I need to do better with the details of this and learn to inspire greatness in my teammates.
That's it, 2 whole goals for the year, not much by count but, by effort I'd say these might be the some of the loftiest goals I've set in a long time…